What is a web designer and what do they do?
May 1, 2022
A pretty website doesn't exist in a bubble. It was planned, built, and brought to life by a professional web designer, like our staff at Creative Coco'Nuts.
But what does it mean to be a web designer? What work do web designers do?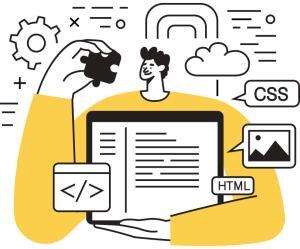 First of all, a web designer is someone who has excellent aesthetic and design skills combined with business know-how. They use design to drive business success.
They are organized, good communicators, and flexible.
They know how to increase brand awareness, drive website conversions, and keep customers engaged.
And most importantly, our web designers at Creative Coco'Nuts are driven, knowledgeable, and client-focused. We know how to craft the perfect website for your needs.
How do you become a web designer?

Web designers can come from many different backgrounds, but one of the most common ways to become a web designer is to get a degree in Design, communications, or a similar field.
Other web designers gain experience in graphic design, web development, and more in the workplace, and build up a strong portfolio and client base from there.
There isn't just one path to becoming a web designer. But web designers do have one thing in common, regardless of their background: They need to have a passion for creating engaging web design, helping clients reach their goals, and a knack for problem solving to create a functional, easy-to-use and attractive website layout.
What do web designers do?

Web designers craft and create the perfect website for clients, including the website layout and appearance. They can also make modifications to existing websites to update them and change them to reflect new business goals.
Layout
When it comes to website layout, web designers choose how to configure content, how to engage an audience, how to fit the needs of a target audience with the website layout, and how to keep the content simple and easy-to-use.
Configuring website layout also means creating a layout that doesn't frustrate audiences or leave them distracted. It focuses them on a brand's best qualities and helps increase conversions.
This means web accessibility is another important factor in website layout and design.
Appearance
The appearance of a website involves all the visual aspects of a website: font, font size, colour scheme, images, and more.
While the primary goal is to create an engaging and easy-to-read final product that will keep an audience engaged, it is also very important to reflect the brand personality and goals in the appearance of a website.
If a brand is fun and playful, the website should be crafted to reflect that, with quirky fonts and bright pops of colour. If a brand is sleek and elegant, the website could follow a black and white colour palette with serif fonts to show that sophistication.
A web designer also makes sure that a brand's website stands out from their competition.
And it's not just a matter of putting together an attractive finished product. There's colour theory to consider, font psychology, responsive design, and of course, a designer's intuition.
Code
Web designers also usually have a working knowledge of CSS, HTML, and JavaScript to work behind-the-scenes and craft a great website.

Other potential responsibilities
Making sure a website is accessible across different devices

Tracking user habits on the website to improve website functionality

Maximizing speed and scalability of a website

Perfecting user experience

Testing and improving websites
Web designers have many responsibilities and use a variety of skills to accomplish their goals. At Creative Coco'Nuts, our web designers are experts in the field and have creative solutions to any web design query.
Contact us today so our web designers can create a new website for your brand or update your existing website!
The expert designers of the Coco'Nuts' studio are here to help!
Talk to you soon!
SOFTWARE WE LOVE
Adobe Creative Cloud*– For Graphic Design & Photo Editing

WEBSITE HOSTING COMPANIES WE LOVE
Host Armada – For Cloud and Dedicated Server Hosting